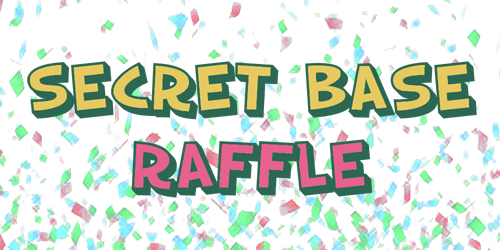 That's right, PAX Pokemon League East-hopefuls! Raffles are back, and we are going to tell you how they work!
FIRST – You will need to find our Secret Base! 
This is going to be in a place full of DIVERSITY, where trainers and Pokemon alike can LOUNGE together in harmony!
SECOND – You will need at least two gym badges from PPL East 2015 to show our representatives at the Secret Base!
This is so that we will know that you're competing!
THIRD – Well, this one  is a secret that you will have to wait and hear about!
We may ask you a question! Or have you show us a Pokemon! Who knows! It will definitely be something that you are capable of doing. 🙂
Should you accomplish all of the above requirements, you will earn THE SECRET BASE BADGE!
Once you have earned the SECRET BASE BADGE, you can be entered into the daily raffles!
Each day we will have one raffle for fabulous prizes!
But you can only enter ONCE.
Once you have entered into a raffle, you cannot enter into another, so choose your raffle day wisely!
"But what day should I choose?"
We're going to show you exactly what we're going to be raffling on each day!
"What if not everything is raffled off on a day?"
Anything left over from each day will be carried over to the subsequent day's raffle.
"What if I won't be able to make it to Day Three's raffle?"
We're very sorry, we can't swap prizes for any particular day. We have, however, tried to offer a wide selection of prizes for each day. 🙂 Plus, all the prizes are great! So you can't really lose!
Keep a look out for our follow-up posts showing what we'll be auctioning and when and where you can find us!