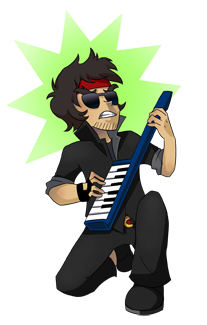 Born Nathaniel Kee, Thane chose a new name when he first decided to take to the stage and become a rock star. During his early tours, his faithful Mareep provided constant companionship and doubled as a decent pillow during those long drives from city to city. Thane challenged trainers at every city he visited, enjoying the diverse array of talent he got to see from region to region. His skill and reputation as a trainer grew with his skill and reputation as a rock star, and soon Thane became a gym leader. Not content to give up his freedom to travel as a rock star, Thane dubbed his tour bus a mobile "gym" and continued to tour, telling people what it means to be a hero through the power of rock n' roll. He chose to champion Electric-Type Pokemon both as a practical matter and in deference to his old Mareep. On his unending quest, Thane has chosen to ally himself with Team Magma, hoping that their earthy ways will assist him in rocking harder!
Trainers enter battle with Thane as Challengers of the PAX Pokemon League. By the time the battle is over, they will become Warriors of the PAX Pokemon League.
Defeating Thane will earn you the Warrior Badge!