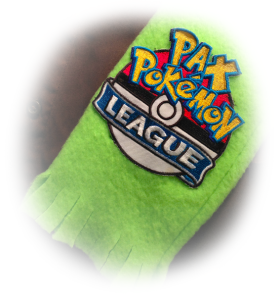 The PAX Pokemon League is an unofficial, fan-run alternate reality game that is played at PAX, the gamer festival held four times a year in Seattle, Boston, San Antonio, and Melbourne Australia. At each PAX, there will be gym leaders in green scarves wandering the convention hall, ready to take on challenges. Find them and defeat them in a Pokemon battle (using your copy of the most recent generation Pokemon games) and you'll receive their badge! If you can collect eight badges, you'll earn the right to challenge the Elite Four, and perhaps a Champion, for the right to be crowned a Champion yourself!
The PAX Pokemon League is not a Pokemon tournament. Just like in the Pokemon games, ANYONE can bring a team of their favorite Pokemon and challenge the League!
If this sounds like something you'd like to participate in, come join our forums! Talk with gym leaders and challengers and prepare yourself for the Pokemon League Challenge!