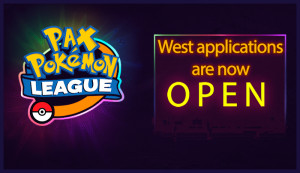 Here we are again, PAX Pokemon League Leader Applications for West 2016 are now open!
We are looking for all types of trainers, including casual and veteran players, to participate. If you like interacting with a lot of people and battling other trainers then we want you to apply for the PAX Pokemon League!
Applications will run until June 1st and we will not be accepting any late submissions.
Please email paxpokemonleague@gmail.com OR PM either RoxasEmoQueen or DoubtedCarrot if you have any questions about the application!
Click here to access the application: http://goo.gl/forms/u91ipLcSDD
Good Luck!
Frances AKA RoxasEmoQueen & Ryan AKA DoubtedCarrot