Attention Trainers wishing to challenge PPL East 2016! This post has lots of important news for you!!!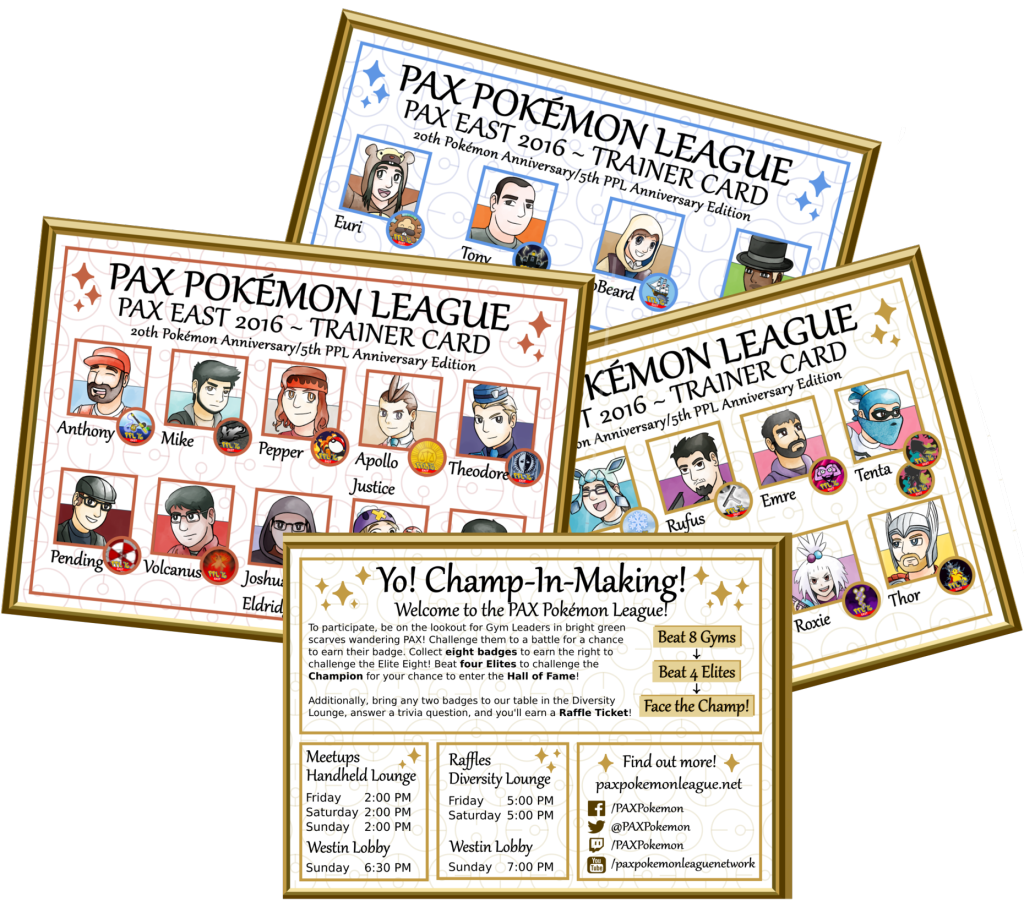 First of all, Trainer Cards are back, and this year's designs celebrate Pokémon's 20th Anniversary and PPL East's 5th anniversary! Make sure to pick one up from the first gym leader you battle, they're loaded with useful information!
Some of that useful information includes handheld lounge Meetup Times! Meetups are a great way to catch lots of gym leaders at once. Meetups will be held in the Handheld Lounge at 2 PM on Friday, Saturday, and Sunday! Wow, what easy times to remember! Just remember: 2 PM!
Our final meetup, our traditional Champion Showcase, will be held on Sunday at 6:30 PM in the Westin Lobby. Get a few last battles in and say goodbye!
Next: the PPL will once again have a table in the Diversity Lounge! We're there to spread the good news of the PPL, so stop by and say hello, or send anyone who wants to find out more about the PPL. Additionally, anyone who stops by the Diversity Lounge booth and answers a Trivia Question correctly will receive a Raffle Ticket!
What are Raffle Tickets and why do you want one? Each day of PAX we'll be holding a raffle for some fabulous Pokémon prizes! Raffles will be held in the Diversity Lounge on Friday and Saturday at 5 PM, and on Sunday in the Westin Lobby at 7 PM. There are only two ways to earn a Raffle Ticket: beat the Champion, or show us you've earned a badge and answer a Trivia Question in the Diversity Lounge (one per person for each of these methods)! So you're definitely going to want one. You can use your Raffle Ticket at any one of the Raffles, but choose wisely, because you can only use each Raffle ticket once.
Next week we'll be posting photos of our fabulous raffle prizes, so stay tuned!