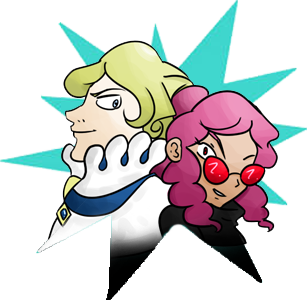 Malva is an ex-member of Team Flare, part of the Kalosian Elite Four and Holo Caster star. Siebold is one of the Kalosian Elite Four and a highly renowned chef across the world.
After the disbanding of her beloved team, Malva channelled her fury into her work and produced broadcasts that were too hot to handle. Having been encouraged to take a sabbatical, she's now on the scene and ready to scorch her brand back into the Pokémon battling scene. Siebold hungers for Pokémon battles that can be truly described as a form of art akin to haute cuisine. This insatiable appetite drives him to seek worthy challengers and test their abilities as Pokémon Trainers.
Will you rise to the challenge and claim victory or shall this steamy duo prove too much for you, smoldering you where you stand?